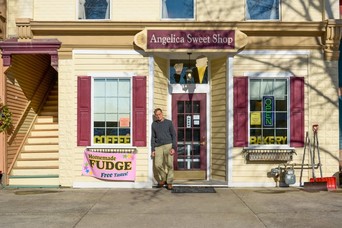 Angelica Sweet Shop
"Your Neighborhood Bake Shop" Est. 2005
Coffee, ice cream, chocolates & freshly baked goods
We sell and ship Angelica Salt-Rising Bread!
Open Daily 8am to 5pm * Year Round
Catering & Wholesale inquiries welcome
44 West Main Street
[585] 466-7070 * Open daily 8am to 5pm
e-mail:
info@angelicasweetshop.com
website: www.angelicasweetshop.com
Trip Advisor
"Quaint Shop "
***** 5 star Reviewed November 6, 2016 via mobile...What a great detour to Letchworth State Park. This town is worth going to see and the Sweet Shop is full of goodies. Pastries and candies as well as ice cream and a few other goodies. The woman working there was extremely helpful in telling me about the town, explaining the game of Roque and telling me about the wooden bridge right down Main Street. She was so helpful and pleasant! Great shop and cutest town.
***** 5 star Reviewed 4/3/2016...
A beautiful little shop with the small town appeal that arouses a sense of nostalgia that most small stores today fail to deliver. Whether your looking for some coffee on the go or a cozy little spot to relax and eat some sinfully delicious desserts, this shop will definitely not disappoint. There's something for everyone. Bring your children and let them pick through the classic candies available... Or peruse through them yourself... I always do. My favorite is the homemade fudge. The coffee and baked goods are phenomenal and the service is friendly. I have yet to travel through Angelica without stopping by. If your ever find yourself near Angelica, NY, this is one little gem that shouldn't be passed up.
---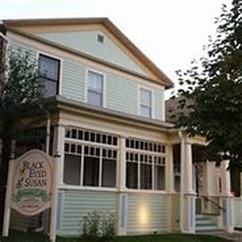 Black-Eyed Susan Catering & Events Est. 2009
We host private events in our 1830s café. and cater off-site - from simple platters of wraps for an office training session to graduations and wedding receptions - customizing the menu to your food preferences and budget. We specialize in fresh, healthful, hand-crafted meals for those seeking an alternative to standard fare, including locally grown, organic, vegan and gluten free.
22 West Main Street(585) 466-7070
email:
info@black-eyed-susan.com
website: www.black-eyed-susan.com
Find us on Facebook!
---
--------------------------------------------------------------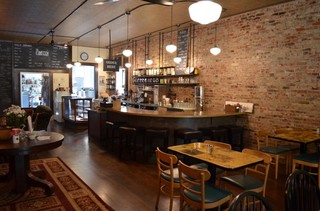 The Canteen
​40 West Main Street
(585) 466-5043
Casual dining at its best!
A beautifully restored Retro, mildly urban setting with brick walls & exposed conduit.
Fresh ground coffee, fresh salads, homemade soups, grilled burgers, chicken sandwiches, homemade cookies, ice cream & so much more!

​Thurs-Fri 11-8, Sat 10-8, Sunday 11-3
www.the1canteen.com * Facebook/the1canteen

​
Trip Advisor
​8/12/2017
*****Stopped in this establishment on my way out to Meadville, PA and tried the today's soup, Seafood chowder, along with an iced latte.
Quaint little place in a very cool town. The chowder was top notch as was my latte. I highly recommend this as a stop if you're traveling along old rt. 17/interstate 86. Good place for a half hour or full meal. They are open until 8pm. Small menu that looks like it changes daily.
​6/9/2017
*****Rustic and quality. Reuben and a coke $8.90...The Reuben is perfect with an abundance of sauerkraut and zero fat to trim. Not too many customers. Only open Thurs-Sunday. Connected to an antique thrift shop

---
-------------------------------------------------------------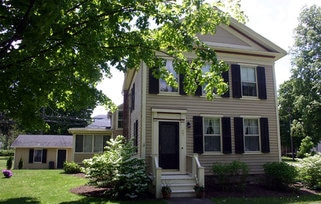 37 Park Circle
Located in historic Angelica among the rolling hills of western New York State, this 1819 Greek revival house offers a bright, floor-size upstairs apartment facing Angelica's Park Circle. The apartment consists of a living room, kitchen, bedroom and bath. All guests enjoy flat screen TV and free wireless internet.
With its quiet village setting, 37 Park Circle is an ideal retreat for a week, or longer. Nearby forest trails, streams, country roads, golf courses, and horse stables offer opportunities for many outdoor activities. Historic landmarks, antique shops and galleries, the Lavender Festival, farmers' markets, Allegany County Fair, Angelica Heritage Days, the Civil War Reenactment, artist studio tours, and the Christmas Luminaries make Angelica a special place to visit all year round.
[646] 515-7588
email: info@37parkcircle.com website: www.37parkcircle.com
---
--------------------------------------------------------------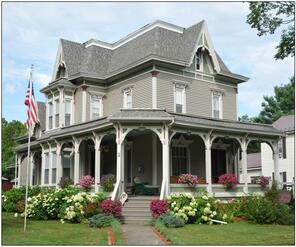 Park Circle Bed and Breakfast
Fully restored circa 1884 Victorian Inn
...awaken in your room to a sound from days of old, horse's hoof beats, as the Amish horse and buggies make their way around the circle. Savor handcrafted breakfast in the beautifully appointed dining room, enjoy a book by the fireplace, relax and watch life go by on the wrap around porch, or just get lost in the ambience of this elegant, spacious inn with its sweeping ceilings and numerous rooms. Full, hot breakfasts... fruit, homemade muffins & breads, hot coffee/tea and specialty items.
Three bedrooms with private baths. Closed winters.
Gift certificates available.
2 East Main Street
585-466-3070

email:
jtylenda@stny.rr.com
web site:
www.parkcirclebedandbreakfast.com
Yelp
***** 5 stars...Reviewed 5/25/2016...Staying here a couple of nights while in town, found it online and it looked lovely. The pictures do not convey the beauty. It turned out to be a wonderful experience-- the house is completely restored [1880s] and just gorgeous with many original antiques and fixtures. The owner is very friendly, and we chatted for ages about history, the area, books.. just everything. The room was decorated and lovely, the bathroom gorgeous and modern with plenty of towels and little soap things. Everything was very clean and quiet. In the morning, Jane got up early to make me a fancy breakfast after making up a menu of what I'd like, and we chatted some more, I could have stayed all day! Just lovely, and less expensive than a corporate chain motel. I go back tomorrow, looking forward to it. Recommended!!
Trip Advisor *****
5 stars
"My second stay at Park Circle B&B"
...Reviewed June 13, 2016
via mobile
. This time around was a two night stay, and probably won't be the last. Jane, the owner, goes above and beyond to make you feel welcome. The atmosphere is relaxing, the neighborhood is friendly and inviting, and Jane's skills really shine through the next morning during the breakfast presentation. Simply Awesome!
---
--------------------------------------------------------------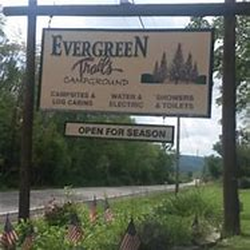 Evergreen Trails Campground8403 County Route 15
[585] 466-7993
Surround yourself with the sounds and sights of NATURE!
Get away from it all, or bring your family and friends to 211 private acres of Allegany County's most scenic and serene woodlands. We offer over five miles of hiking trails, private ponds, log cabins, and RV & camp sites...something for everyone! Evergreen Trails hosts weddings, birthday parties, family reunions, etc.
Open mid April to late OctoberFor rates and additional info: www.evergreentrails.com email: info@evergreentrails.com
---
--------------------------------------------------------------

McCarthy's Golf And Campground[585] 567-2360
9628 Old State Rd.

Enjoy the beautiful hills of Allegany County at open & wooded campsites!

At McCarthy Golf & Campground in Angelica, we want happy Campers! If you're looking for the best Camping experience, look no further! We have exactly what you're looking for, and will provide it with a smile. Friendly people, beautiful views & great service.

Please call us for prices & availabilities from 9am - 9pm everyday.www.mccarthygolfandcampground.comAccommodations:

Total Number of Sites: 109

Full Hook Up Sites (WES) Available: Yes

Maximum RV Length: 45

Seasonal Sites: Yes

Rental Cabins Available: Yes

Tent Sites Available: Yes

30 amp electric available Services and Amenities - ON SITE Camp Store

Dump Station

Fishing

Golf Cart Rentals

Golf Course

Hiking Trails

Internet - Wi-Fi

Laundromat

LP Gas

Playground

Rec Hall

Showers

Swimming - Lake, Pond, River

---