1st Annual Spring and Summer Recreation Show
May 6-7, 2017
Allegany County Fairgrounds, Angelica, NY
Hosted by The Greater Allegany County Chamber of Commerce
Featuring boating, hiking, hunting, fishing, camping, golf, biking,
Kids activities and more!
Saturday May 6th, 10 a.m. to 5 p.m. and Sunday May 7th, 10 a.m. to 4 p.m.
Admission $3, under 10 years old FREE!

Want to be a vendor? Give us a call! 585-268-5500
__________________________________________________

2017 LAVENDER FESTIVAL

Saturday July 1, 2017 @ the Park Circle 10am-4pm
Project Lavender started a few years ago with the dreams of several lavender lovers in Angelica including Pat Kaake [with daughters Marika & Shannon] , Fleurette Pelletier, and Sharon Rader. Project Lavender became a reality in March of 2007, and the interest shown has grown and many people are now growing lavender. Project Lavender wants to celebrate the Southern Tier's agricultural heritage, encourage local cottage industries, and stimulate regional tourism by hosting an annual Lavender Festival. Locally grown lavender, lavender products [soaps, lotions, jewelry, beverages, baked goods...] live music, demonstrations, kids activities, hand-crafted local wares, cooking classes, Angelica "Street of Shops" specials, etc.
A little something for everyone, so please stop by!

Contact: Staci Curry @ 585-466-3787, Marika Burke @ 585-466-3001, or Sharon Rader @ 1-845-548-6258


__________________________________________________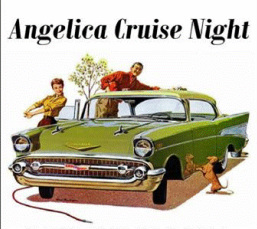 Sponsored by: The Angelica Sweet Shop [Don and Karen Ash] & the Angelica Hose Co.
6 to 8pm * June 22, July 27, August 24, 2017

Up to 100 classic antique cars and vehicles! (weather permitting) Along Main Street...Free to participating car owners, register at 22 West Main St; flashback cruise music; "Drivers' Choice" prizes; great food and ice cream; benefit auction for Angelica Hose Company.

​Some Angelica shops & The Canteen are open late
585-466-7857 or 585-466-3399
---
__________________________________________________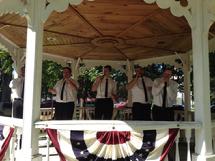 2017 HERITAGE DAYS FESTIVAL
Hosted by the Angelica Booster Citizens
48th Annual Celebration -
August 5 & 6
The Heritage Days celebration will be held outdoors at the Park Circle in the Historic Village of Angelica. We showcase antiques, local artwork and crafts, music, exhibits and reenactments.
The Booster Citizens cordially invite you to participate in this celebration of Angelica's heritage!
www.angelicaboosters.com
---
__________________________________________________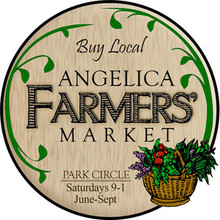 At the Park Circle - Angelica, NY 14709
Featuring local fruits, vegetables, free-range eggs, meats, honey, cheese, granola, wine, baked goods, pastured poultry, jams & jellies, nursery plants, flower bouquets, maple syrup, artisan work, natural body care products, and prepared foods. We accept WIC and Senior Nutrition Coupons.

2017 Schedule:
June 10 - September 30, Saturdays 9:00 AM to 3:00 PM (Hours will be extended for festival dates.)
Contact: Staci Curry [585] 466-7460
"We are beyond excited to welcome you to this new season for the Angelica Farmers' Market! Wow, have we got a great line-up! We have about16 vendors, live music, and an abundance of great products. Add to that, a fabulous music festival happening around us all day! It feels so good to shop local, support local economy, meet neighbors, and enjoy a stroll through the beautiful Park Circle of Angelica, NY."

​https://www.facebook.com/AngelicaFarmersMarket or https://angelicafarmersmrkt.wixsite.com/angelicafarmersmrkt ​​


---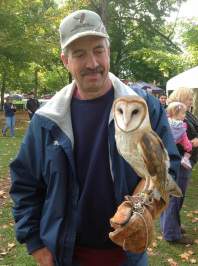 Farmers' Market Fall Festival Saturday, October 7, 2017 9am-3pm

Festivities include Old Fashioned Games, an Apple Pie Baking contest, the Biggest and Strangest looking Pumpkin contests, the largest Zucchini contest, a Kids and an Adult Scarecrow contests, and demonstrations from Local Artisans. Eagle Dream will be at the Fall Harvest Festival displaying their birds of prey and answering questions. Enjoy prepared foods from local restaurants in the park, and the Market will host an Apple Cider Booth. In addition to the regular Market vendors, there will also be a Basket Auction as a fundraiser for the Market.

For contest rules and additional information please contact: Staci Curry at 585-466-3787.



---

__________________________________________________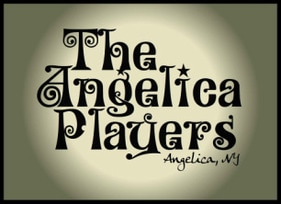 Community Theater
Our home theater is on the top floor of the historic
Angelica Free Library,
built in 1900 by Clara Higgins- Smith.
The Library is located at 55 West Main Street in Angelica, NY.
574 W Main Street
Angelica, NY 14709
Staci Curry: 585-466-3787
PRODUCTION: August 3, 4 & 5 "Deadly Earnest"
​
The Angelica Players announce our 5th year of Summer Theater Camp!
We have had so much fun with these. Our team, Ksa Curry and Alan Salyer, is amazing. Ksa and Alan have both studied theater extensively. They bring a youthful, fresh energy to our camp. Registration is now open!
Camp dates: Contact Stacy Curry
Ages 6-9 meet from 9am-noon daily. Ages 10-14 meet from 1pm-4pm daily.
To register, please email
info@angelicaplayers.com
Check us out on Facebook
---
__________________________________________________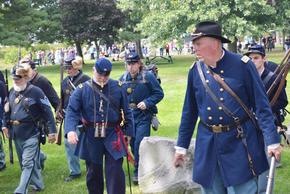 Civil War Reenactment
* September 22-24, 2017
A full weekend of muskets firing, cannons blasting, soldiers and sutlers, rebels and Yankees, ladies in their finery, cooks, civilians, doctors, drummers… These are a few of the sights and sounds you'll experience at the Civil War Re-Enactment in Angelica, N.Y. It attracts thousands of visitors and hundreds of re-enactors who, through living history demonstrations, re-enactments of actual Civil War battles, & spontaneous interactions with visitors, help the audience understand more fully certain facets of Civil War life. Information: Skip Hecker @ 585-610-2567
Great Photos and comments of reenactor Michaela Richmond:
https://thefarmingdaughter.com/2015/09/29/angelica-civil-war-reenactment/
---
Boy Scouts and Re-Enactors: This year on September 22-24, members of the modern- day group who recreate those men and women of the Civil War will gather in historic Angelica, N.Y., to teach today's young men about that era. The Western Gate District of the Allegheny Highlands Boy Scout Council will hold their tenth Civil War Camp-o-ree at the Allegany County Fairgrounds. The camporee has fueled a new interest in Civil War history by the scouts and led to the formation of Crew 7136, a Venturing Crew that re-enacts Company "K" of the 136th New York Volunteer Infantry, which was recruited in Allegany County in 1862. Crew 7136 participates in re-enactment events throughout the region. Dressed and equipped with authentic equipment, they strive to teach history to today's youth through portraying the lives of Volunteer Infantry and civilians during the Civil War.

Approximately 450 scouts and leaders from throughout the region are expected to participate in living history demonstrations of camp life, marching and artillery. Over 350 re-enactors from across the region will make camp right in the yards of willing village homeowners. The Union re-enactors will encamp on properties west of Park Circle, and the Confederate re-enactors will encamp on properties east of Park Circle. From these locations they'll eat, sleep and breathe Civil War-era life. Dressed in period costume, they'll battle blue against grey complete with cannons, muskets, and epithets. Capping off the weekend, the scouts will observe several skirmish re-enactments put on by the re-enactors, and then participate in a mock battle of their own, using imitation muskets and gaining valuable insights into Civil War life.

Angelica Farmers' Market: Park Circle will host the popular Angelica's Farmers' Market, with local vendors offering fresh fruits, vegetables, meats and baked goods, plus wine, honey, and artisan wares. Sharing the market for this event will be Civil War-period vendors called "sutlers". You will also find craftsmen, civilian camps, local food stands and Boy Scout vittles.

​Angelica's "STREET OF SHOPS" is open for business too!

To enhance the safety of holding this event in Angelica's Historic District, the Angelica Village Board has authorized the closing of Main Street to vehicular traffic and to parking from High Street to Peacock Hill Road. HOURS WILL SOON BE POSTED. Detours will be established to re-route traffic.
All event parking is at the Allegany County Fairgrounds at Exit 31 on the I-86 expressway
Admission is $3.00 per car which includes a brochure and all-day shuttle service. [All proceeds go to the Boy Scouts]

TENTATIVE SCHEDULE: {some details may change}
Friday, Sept. 22:
9:30 a.m. – 2:00 p.m. Education Day Many of the re-enactors come to Angelica and set up their encampments a day early, to welcome more than 400 8th grade students from schools across the county who are on field trips to learn more about Civil War life. Residents are also invited to visit these living history stations.
Saturday, Sept 23:
9:00 a.m. Gates & Military Camps Open to Public
9:00 a.m. - 5 p.m. Living History Stations Open to the Public
10:00 a.m. Jack Maples as Anti-slavery Confederate Gen. Montgomery Corse (Grange Hall)
11:00 a.m. Jack Maples as Gen. Montgomery Corse (Grange Hall)
11:00 a.m. Drill Practice - All Units & Branches
12:30 p.m. All Units Assemble for Safety Inspections
1:00 p.m. Battle (Historic Main Street) To be announced
2:30 - 4:00 Ladies' Tea {Registered Re-enactors Only; To be announced}
2:30 Boy Scout Battle (Old Angelica School Athletic Field)
3:30 Battle (Old Angelica School Athletic Field) To be announced
5:00 p.m. Camps Close to the Public
7:00-10:00 Dance with Civil War Music and Calling (Grange Hall; All Welcome. Period Dress Encouraged. Donations, please!)
Sunday, Sept 24
9:00 a.m. Gates & Military Camps Open to Public
9:00 a.m. Catholic Mass Celebrated by Father John (Grange Hall)
10:00 a.m. Authentic 1860s Civil War Church Service by Rev. John Hogan (Grange Hall)
12:00 p.m. Main Street Parade
12:30 p.m. Gettysburg Address (Park Circle Gazebo)
1:00 p.m. All Units Assemble for Safety Inspections
1:00 p.m. "Voice from the Civil War" by Eileen Patch (Grange Hall)
2:00 p.m. Battle (Historic Main Street) To be announced
2:00 p.m. Living History & Public Tours of Camps
4:00 p.m. Event Closes to the Public